Toronto billionaire and philanthropist Barry Sherman and his wife were found dead in their mansion Friday, and police said they were investigating the deaths as suspicious.
Canadian police are investigating the mysterious deaths of the billionaire founder of Canadian pharmaceutical firm Apotex, Barry Sherman, and his wife, Honey, who were found dead in their Toronto mansion on Friday.

The couple was found dead after police responded to a medical call just before noon local time at their home in an affluent section of north-east Toronto.

"The circumstances of their death appear suspicious and we are treating it that way," said police officer David Hopkinson. Homicide detectives later told reporters gathered outside the home that there were no signs of forced entry.

Two bodies covered in blankets were removed from the home and loaded into an unmarked van on Friday evening. The property is listed for sale for nearly C$7m (£4.1m/US$5.4m).
Does it seem strange to mention the property being listed for sale?
Police are investigating the deaths of Toronto billionaire Barry Sherman and his wife, Honey, as a murder-suicide.

A Toronto police source told the Globe investigators are working on the theory that Mr. Sherman killed his wife and then took his own life
Eerily reminiscent of Ex Senator Nancy Shaeffer 's supposed murder – suicide which is total BS>
Police services spokesman Mark Pugash would not confirm any details of the case, only stating the homicide squad is involved in the investigation. "Homicide is working with 33 Division on this until we get the post mortem. When we get the post mortem result, that should give us a good indication of where the investigation goes from there," he told The Globe.

There was no sign of forced entry to the home. There was no note left behind to explain what had happened, the source said.

The Shermans had just put their house on Old Colony Road up for sale for $6.9-million.
More home for sale information?
A Toronto police source said their bodies were found Friday at the edge of their basement pool, hanging from a railing that surrounded the pool. Investigators are working on the theory that Mr. Sherman killed his wife, hung her body and then hanged himself at the pool's edge, the source said.
Creating the narratve is more like it.  Typical suicided by freemasonry where you have a happy couple in a murder suicide with no message or note and clearly not a random robbery where knives or guns would be the trauma tool.
Police, firefighters and paramedics responded to a 911 call for a medical emergency at 11:44 a.m., Constable Hopkinson said. But he would not say who made the call. He said the pair were pronounced dead at the scene.

The Shermans, the family said, had just welcomed a new grandchild. Mr. Sherman was 75 and Ms. Sherman, 70. They had four children.

On Monday, Mrs. Sherman e-mailed friends to book social dates on the couple's upcoming Florida trip.
Canada's Riviera is Florida. As a forty year resident I can atest to it. Seems a great and fun trip for the holidays was at hand. Not likely a murder suicide would be on the itinerary, huh?
"Looking forward to getting together in Florida. I am coming south Monday, December 18 – Friday, January 12," Ms. Sherman wrote in the email. "Barry is coming south for Monday December 25 & going home with me Jan. 12. Please let me know your dates south asap so i can place in my calendar… Looking forward to hearing back asap. Xoxo Honey"
Looking at the big picture, Sherman's generic company was growing, moving into US markets heavily and would surely cut into the US Big Pharma profits. It also is important to note the Philanthropy angle and Pedophile angles that have been exposed in Canada. Refugee and child trafficking always a possibility.  The article is full of the Numerology of Freemasonry (33) using 11:44 time and 11,000 enployees and 4.77 Bln net worth. All three vortex points are covered in this article [2-6-9] with multi references to 11.
Mr. Sherman's net worth was recently estimated to be $4.77-billion by Canadian Business, an online magazine, making him the 15th-richest person in Canada. He had donated widely to political and community causes after making his fortune in the pharmaceutical world.
This has all the Jesuit Masonic earmarks and Barry Sherman's political ties could include Trudeau, Clinton and other Jesuit politico orgs.
The Sherman's have handed out millions of dollars to hospitals, universities and the United Jewish Appeal. Honey was on the board of governors at York University, the Baycrest Foundation and Mount Sinai Hospital. She is also the past chair of the Jewish Foundation of Greater Toronto and former chair of the Holocaust Education Centre.
A nice sacrificial Joo-joo-bee killing for the Sabbatean Satrurnalia Season?
"We don't know what happened. A family member got information and called me.… We don't want to interfere with a police investigation, but on the other hand, the kinfolk want to know about their kinfolk."

Lights were on inside the home last night, as police officers worked inside, illuminating what appeared to be a Frida Kahlo canvas.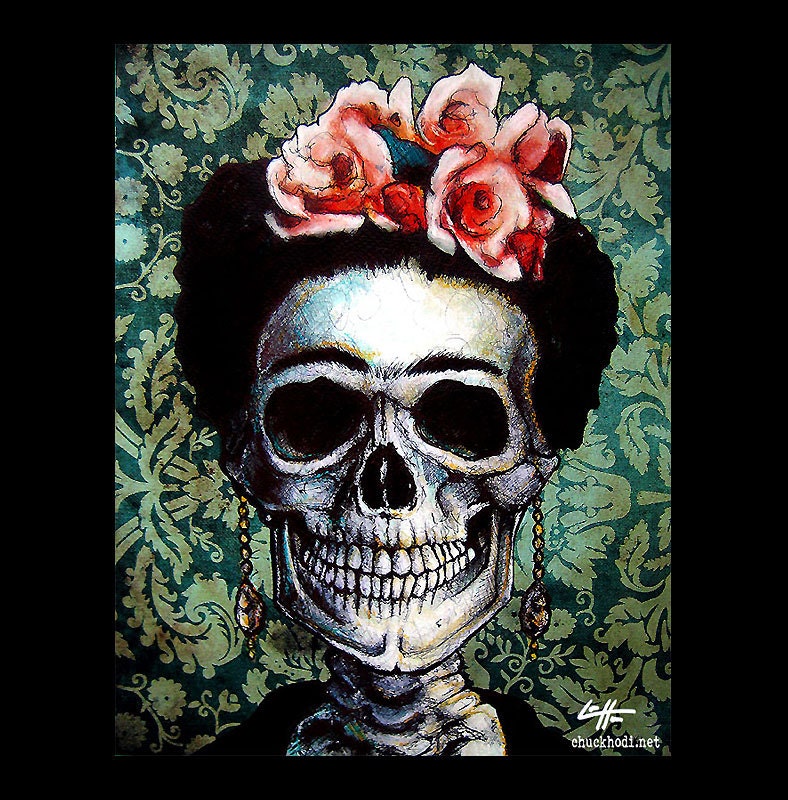 Very important clue here. If you know Frida Kahlo art then you know her and hubby's romance with the dark side. Illuminati? Yes, Freemasonry? Yes. Rosicrucian? Very likely. Next to Van Gogh, a very tragic life as well. A clue to a real murder suicide? Maybe.
There is more than meets the eye here. We can expect the 33rd Division to keep the truth from the sunlight. Maybe more clues to come will confirm more. Some more history and philanthropic connections will shed some light.
Sherman was one of the most powerful and highly-connected men in North America and was perhaps most well-known for securing a deal with the Clinton Foundation during to provide vaccines in Haiti. In September 2014, in response to the spread of the chikungunya virus in Haiti, Apotex worked with the humanitarian organization Direct Relief to donate more than $2.2 million in medical aid to the country.

Apotex struck a deal with the Clintons' Direct Relief organization to provide drugs to treat victims of the virus, saying in a statement: "Apotex is in a position to help (in Haiti), and we are delighted to work with Direct Relief…"

Apotex worked with Direct Relief in Haiti, who was a "particularly active" member of the Clinton Foundation/Clinton Global Initiative community, supporting post-hurricane "relief efforts" there. The huge pharmaceutical company airlifted vaccinations and medical supplies into Haiti that was funded through charitable donations to the Clinton Foundation and other connected charities.
It just gets easier and easier doesn't it?